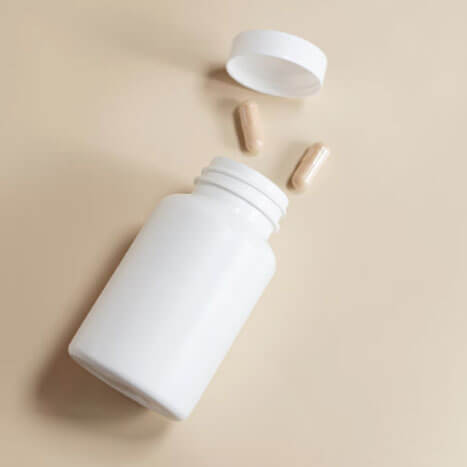 Food supplements
Packaging for food supplements
Pre-workout or diet boosters, protein powders and vitamin capsules – the demand for supplements has always been high, especially among fitness and health enthusiasts. But there's no short supply either. That's why manufacturers who want to stand out from the competition need high-quality products as well as eye-catching packaging.
Handy glass and plastic packaging are especially popular as packaging for food supplements. They protect capsules, powders, oils and tablets from extreme temperatures, moisture and oxygen and ensure freshness and a long shelf life.
Advantages
Our packaging for food supplements –
sustainable and safe.
Sustainability
Our packaging made of glass or PET can be recycled without any issues. By reducing the use of materials and steadily increasing the proportion of rPET material, we also contribute to climate protection.
First-opening guarantee
Food supplements are health products. As with foodstuffs, a first-opening guarantee is therefore necessary if they are sold via the retail trade./p>
Label service
We not only supply you with the perfect packaging for food supplements, but also take care of the label printing and labelling of the packaging upon request. We also offer contract labelling for third-party packaging.
Capsules, tablets and powder
Our packaging is specifically tailored to the requirements of food supplement products. We know how important it is that your products are optimally protected, user-friendly and practical.
Our packaging is also nice to look at and a great way to showcase your brand. We offer a wide range of options for the design of your packaging. This will ensure that your products jump out on the shelf and stand out from the competition.
Discover products
Liquids
We offer a wide range of high-quality packaging solutions suitable for liquid food supplements.
Packaging is both functional and nice to look at. Our aim is to provide you with high-quality packaging solutions that optimally protect and present your liquid food supplements. Take a look at our range and get in touch to find out more about how we can help you sell your products successfully.
Discover products
FAQ
Frequently asked questions on the topic
Packaging for food supplements
Bestsellers
Our favourite packaging-
products from the food supplements category.